Effectively utilizing your project controls software is key to ensuring your projects are completed on time and on-budget. With Trimble Prolog, your organization has access to the industry's leading project management solution. From document control and cost controls to field management and executive reporting, Prolog is the most complete and comprehensive solution available on the market today. Effectively leveraging these capabilities is an important part of a successful Prolog implementation. From establishing best practices, to creating custom roles, reports, and workflows, BuildingPoint is your local resource to ensure you're getting the most out of your Prolog investment.
As a result of this commitment, BuildingPoint is excited to offer Prolog Bootcamp. This intensive 2-day event will allow contractors the opportunity to bring their Prolog users up-to-speed on the basics of Trimble Prolog. Designed as an introductory, hands-on training experience, users will start with the foundational basics of Prolog Converge, and learn about best practices and workflows from BuildingPoint's Trimble Certified Training Staff.
With Prolog Bootcamp, contractors can custom tailor their training agenda to their specific needs. This event is divided into two specific concentrations including:
• Document Control & Management (November 11, 9a-5p)
• Cost Controls (November 12, 9a-5p)
The bootcamp will be held at the WeWork Office complex located at 350 Lincoln Road, Miami Beach, FL 33139. Attendees can register for the topics and training areas that they prefer, choosing as many, or as few as they would prefer, for only $120 per person. Prior to the class, BuildingPoint will invoice attendees for registration. This registration fee includes course materials and an on-site lunch each day. In addition, attendees will be able to utilize Trimble's own training server instance, allowing full hands-on access to a fully-populated training database. Attendees are required to bring only a laptop with a Wi-Fi connection. All other materials will be provided.
To learn more about the specific topics and modules covered in each class, download our our Course Outline here, or to register, head to our registration page. Space in Prolog Bootcamp is extremely limited, so ensure that you reserve your space today.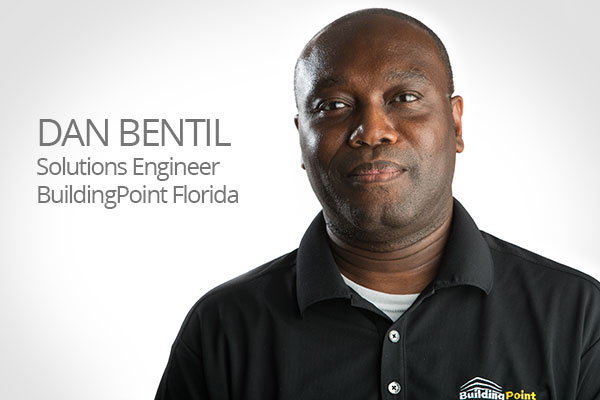 Meet The Trainer
Dan Bentil joined BuildingPoint in 2014, bringing a Masters Degree in Construction Management from the University of Florida, and 17 years experience in the construction industry.  With a wide variety of experiences in construction, including roles as an APM, PM, and PE, Dan has extensive experience with Trimble's Software Solutions. Armed with this knowledge and experience, Dan understands the frustrations, headaches, and variety of issues facing new software users. This allows him to craft training experiences tailored for real world problems, getting users up and running as quickly as possible.