Happy Holidays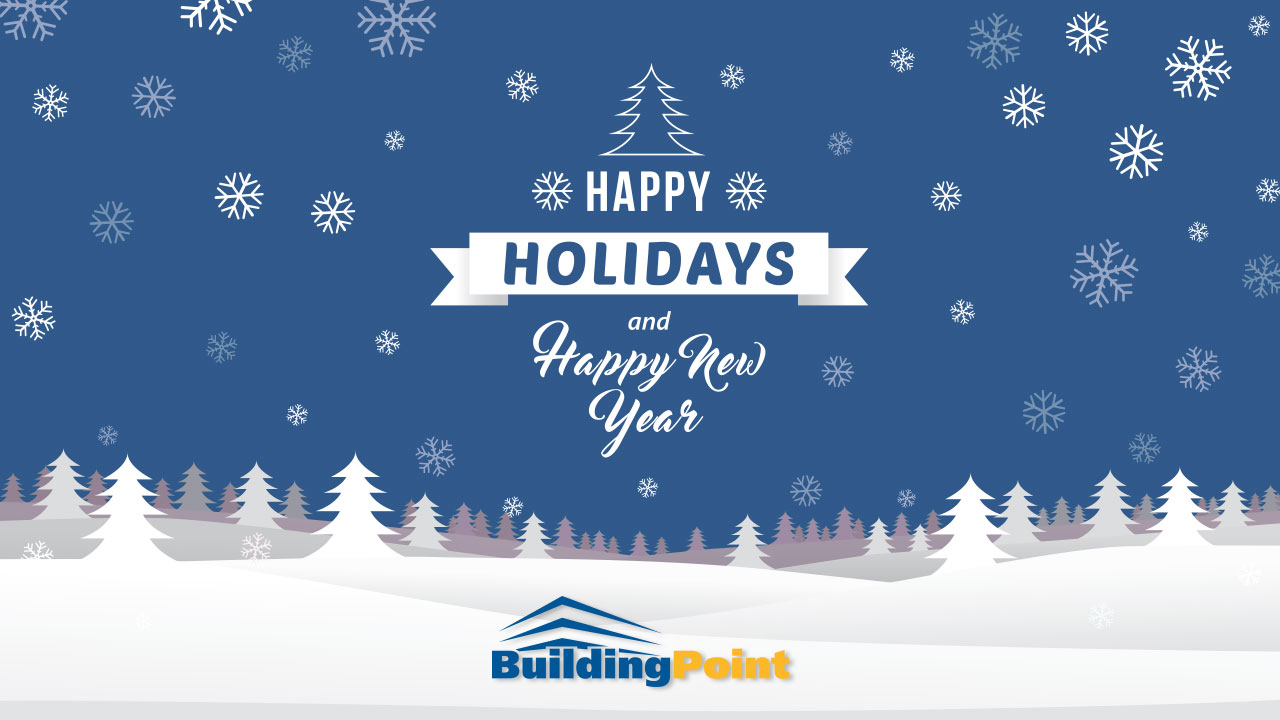 As the year winds down, we wanted to take a break from the hustle and bustle of the holiday season and say thanks to all of our partners for making 2018 a great year. From all of us here at BuildingPoint, Happy Holidays!
Help Your Estimates Navigate Every Twist And Turn.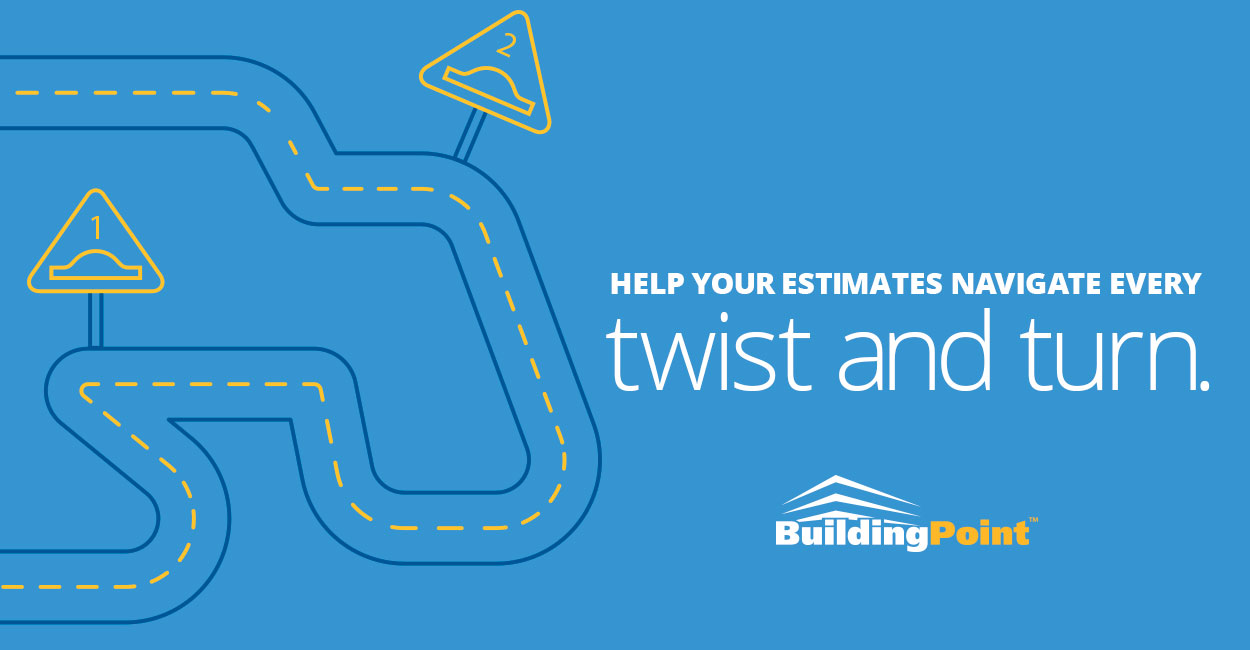 If your construction company wants to grow, taking on larger projects is a strategic way to do so. But you must be prepared for the complexities that larger projects present. This may require upgrading your estimating approach, especially if you've been using spreadsheets. While spreadsheets are powerful tools, they're inadequate for the construction estimating process—and could be hurting your chances of taking on bigger projects. If your company's having a hard time competing on bids for larger construction projects—or you're afraid to even try—you can position yourself for success by avoiding these three critical mistakes.
Mistake #1:  You lack a standardized estimating process
When you lack a standardized estimating process, you're at a disadvantage from the get-go. Because you don't have a consistent and repeatable method to follow, your estimates take longer to produce, they're harder to review, and they're more likely to have errors. If you're relying on spreadsheets, you're at even greater risk. Experts estimate that 94% of spreadsheets contain errors, meaning that 9 out of 10 of your own estimates could have potentially costly mistakes.
It's not surprising really. Spreadsheets lack the essential features you need to create accurate estimates, like automatic takeoff capabilities and pre-built cost assemblies. There's also no versioning history to track where mistakes were made, and no audit functionality to catch them. The problems with spreadsheet estimates are only magnified on larger-scale projects. Because there is more complexity, you're at greater risk of forgetting to factor in additional, non-standard costs that can affect a project's profitability.
The Remedy
Develop and implement a repeatable and consistent process for creating your estimates.
Leverage pre-built cost assemblies to minimize errors of omission.
Create an audit trail to catch potentially costly mistakes, before they make it into the GMP estimate.
By following a standard and consistent process, you'll be equipped to produce more complex estimates with accuracy and confidence. More construction companies are ditching spreadsheets in favor of database-driven estimating tools. Learn more in the FREE eBook.
Mistake #2: You're relying on tribal knowledge
If you don't have a standardized estimating process, you're likely relying more on tribal knowledge than a consistent methodology to produce your estimates. This puts you at the mercy of your most experienced estimator to ensure your bids are accurate and thorough. This might have worked until now, but continuing to rely on tribal knowledge will put you at a disadvantage when it comes to competing for bigger projects. When you're vying for a large project, you need all hands on deck. If you're leaning too heavily on your top estimator, you're not able to fully utilize your team.
If your most experienced estimators' knowledge and experience isn't being captured and transferred to junior estimators, you're also at risk of losing this valuable intellectual property. And you're missing a prime training opportunity. This knowledge is essential to the growth and success of your estimating team, which directly affects your ability to compete for larger projects. If you're relying on basic spreadsheets, you're exacerbating this issue. Spreadsheets inherently lack collaboration functionality, so your estimators are more inclined to work individually and develop their own ways of doing things.
The Remedy
Document the tribal knowledge of your best estimators and incorporate it into a standardized estimating process.
Use an estimating tool that facilitates collaboration among team members.
When you can leverage your whole team, you're able to more accurately and efficiently produce the complex estimates that large projects require.
Mistake #3: Your estimates and reports are one-size-fits-all
A bigger construction project doesn't merely have a larger build and budget. It also has more stakeholders, each with different perspectives and priorities. Beyond the owner, these stakeholders may include investors, engineers, architects, project managers, specialty contractors, zoning boards and oversight committees. Each of these stakeholders has unique concerns and could influence if you win the project. If you're relying on spreadsheets to create your construction estimates, you'll be hard-pressed to deliver the customized reports they expect. You also lack the robust filtering capabilities to deliver estimates in an owner's preferred and standardized bid package format.
One-size-fits-all spreadsheet estimates also hinder your ability to value engineer. Without a standardized estimating process, you can't easily test and evaluate options to identify areas where you can increase value by reducing costs. Value engineering might reveal that there are lower-cost materials that offer higher durability, or specialty contractors that can help you complete the project faster. But spreadsheets don't facilitate this process.
The Remedy
Leverage an estimating tool with coding and filtering capabilities to facilitate customization of estimates.
Incorporate value engineering to demonstrate to owners and influential stakeholders your commitment to delivering the best value for the budget.
From the conceptual bid through project completion and post-project audit reporting, your ability to respond to stakeholder needs and interests is key to winning larger projects.
Prepare to win bigger construction projects
You can compete for and win larger projects, but first you must avoid the mistakes that can set you up for failure. You need:
A standardized and consistent estimating process, so you can confidently and quickly create estimates.
A collaborative approach that allows your entire team to contribute to complex estimates.
The ability to customize how you present information, so you can deliver the specialized estimates and reports needed to satisfy multi-stakeholder teams.
For more ways to gain the competitive edge with your construction estimates, get the FREE eBook.
Trimble RTS – Built For Buildings
Built on the foundation of Trimble's long standing success as the pioneer of the Robotic Total Station, the Trimble RTS family is the ultimate total station for contractors. From a long range EDM, to Trimble Vision, to a focusing green beam for precision layout, the Trimble RTS family of Robotic Total Stations was designed for the needs of building contractors. Simply put, the Trimble RTS was built for buildings.
To learn more about the Trimble RTS family, contact your local buildingpoint representative, or click the link below.
What's New In Trimble FIeld Link 5.0
Trimble recently released a major upgrade for Trimble Field Link, bringing it to version 5.0. At the core of this update is the all new Tekla graphics engine, along with other features and enhancements. This new graphics engine improves the color rendering and transparency settings of a model. The new engine also improves the speed of importing a model (with import progress displayed), and now allows you to query model properties. In addition, with TFL v5.0, you can now select a point on your model to rotate around, instead of just rotating around the center of the screen. Also, TFL version 5.0 now features a new file type, using a .TRB file in place of the legacy .BLDG file type.
For more information on the new features and enhancements in TFL 5.0, you can download a copy of the Product Bulletin here. And for more info, or to schedule a demo, contact your local BuildingPoint representative, or click the link below.
Foundations Episode #37 – A Sum Greater Than The Whole
The federated model is a concept that's been around since the beginning of BIM. And while the idea is that everyone feeds this one model with data and information, it's not always that easy. In this episode of Foundations, the team sits down to discuss the real world challenges in implementing a federated model, and the enormous upside it can bring to your project.
FirstLook: Trimble FZ-M1
The Trimble FZ-M1 is a compact, fully rugged tablet, built to enable contractors unmatched productivity without compromise. Powered by Windows 10 Pro, the FZ-M1 features a long life, user-replaceable battery and a daylight-readable, high-sensitivity multi-touch display for use with heavy gloves. The FZ-M1 weighs in at just 1.2 lbs, is everything contractors require from a rugged tablet computer in the field. To learn more about the Trimble FZ-M1, contact your local BuildingPoint representative, or click the link below.
Trimble Success Stories: Pitt Meadows Plumbing
Pitt Meadows Plumbing is using Trimble hardware and software to cut layout time and increase accuracy. Find out exactly what happened when Pitt Meadows Plumbing put down the tape measures and picked up a Trimble RTS. To learn more about the Trimble RTS family, contact your local BuildingPoint representative, or click the link below.
Foundations Episode #36 – Laying Out Where The Puck Will Be
Robotic total stations are rapidly becoming the standard in the industry today, and we're seeing them on smaller and smaller projects and sites. And with this change, we're seeing more, and better data on the job, so how exactly do we use this data to finish jobs more efficiently? We're joined by Michael Frye of Trimble to discuss these changes, and what we see for the near future.
See What's New In Modelogix Cloud 4.0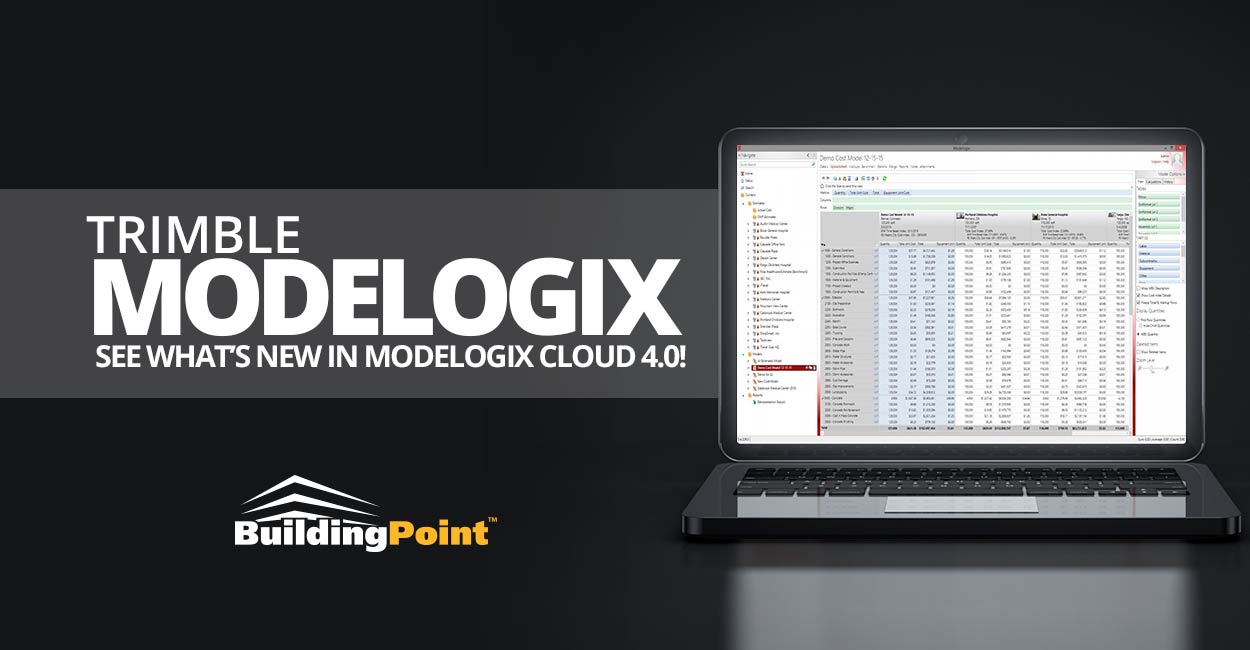 Trimble recently released a new update to Modelogix Cloud, bringing it to version 4.0. In this release, one of the main enhancements os the new Modelogix Query Application Programming Interface (API). Use this new API to give other applications access to your databases. Modelogix exposes its data via the API so that programs like Microsoft® Power BI can analyze the data to help you better analyze and understand your organization.
This new API gives you access to your Modelogix database (db) of estimates and attributes (tags). This makes cost data more valuable for sorting, mining, and serving up data through business intelligence services. The new API also allows you to share plans and analytics with colleagues who do not run Modelogix.
In addition to the new API feature, version 4.0 includes fixes discovered by the Q&A team, and issues reported by customers. To learn more about Trimble Modelogix Version 4.0, click the link below for the release notes.
Foundations Episode #35 – It's About Time
The construction industry is moving at a pace never before seen, and with that, there is so much data available that we're realizing that time and attendance is a crucial piece that can save significant administrative time… and reduce errors. Steve Montgomery from BuildingPoint Northeast joins us to explore the topic of access control, and time management.