Helping You Shoulder The Load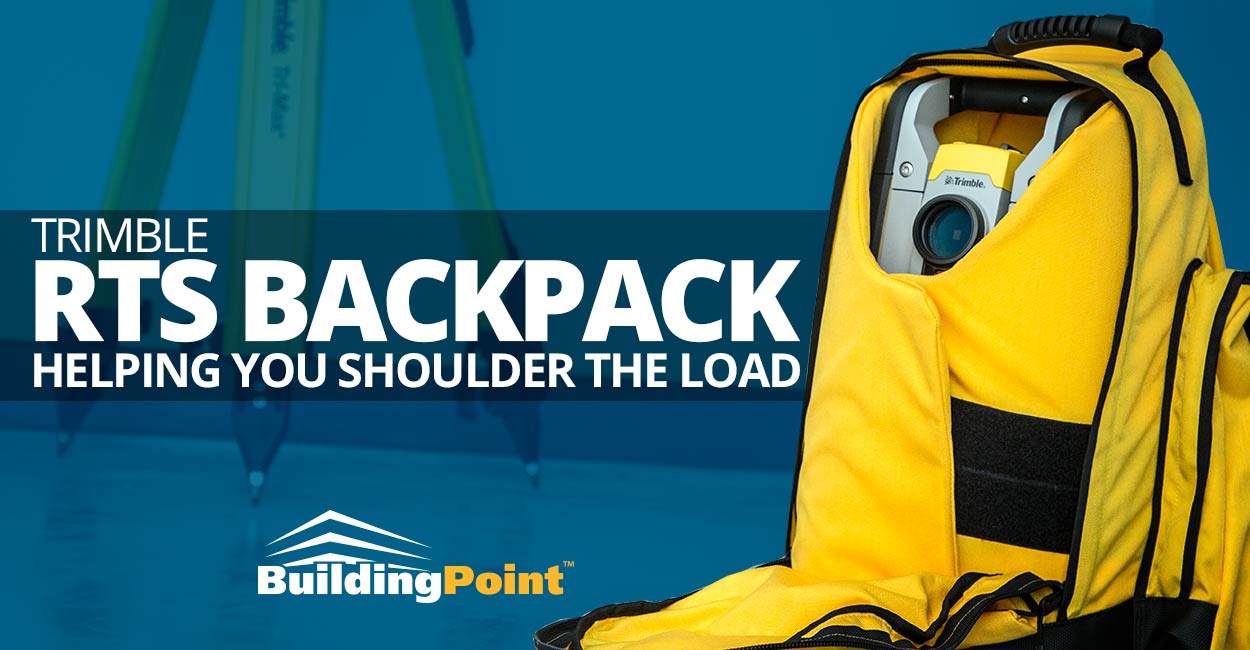 For transporting your Trimble total station, hard cases are the de facto standard. They're rugged, dependable, and you can rest assured that your equipment has the best possible protection against the realities of the job site. But in some applications hard cases are a well… hard case.
Trimble's uniquely designed backpack has been purpose-built for your Trimble RTS. With ample room for the total station, tablet, targets, and chargers and batteries, the Trimble Backpack increases your mobility and comfort in and around even the most congested job sites.
To pick up a Trimble backpack today, simply click here.
Foundations Episode #34 – Ready For Takeoff
In this episode of foundations, we discuss an earlier portion of the construction lifecycle, estimating. While BIM and models are great for increasing efficiency, today we wanted to focus about the blend of 2D and 3D estimating, and the take-off data we generate from it.
Power To Spare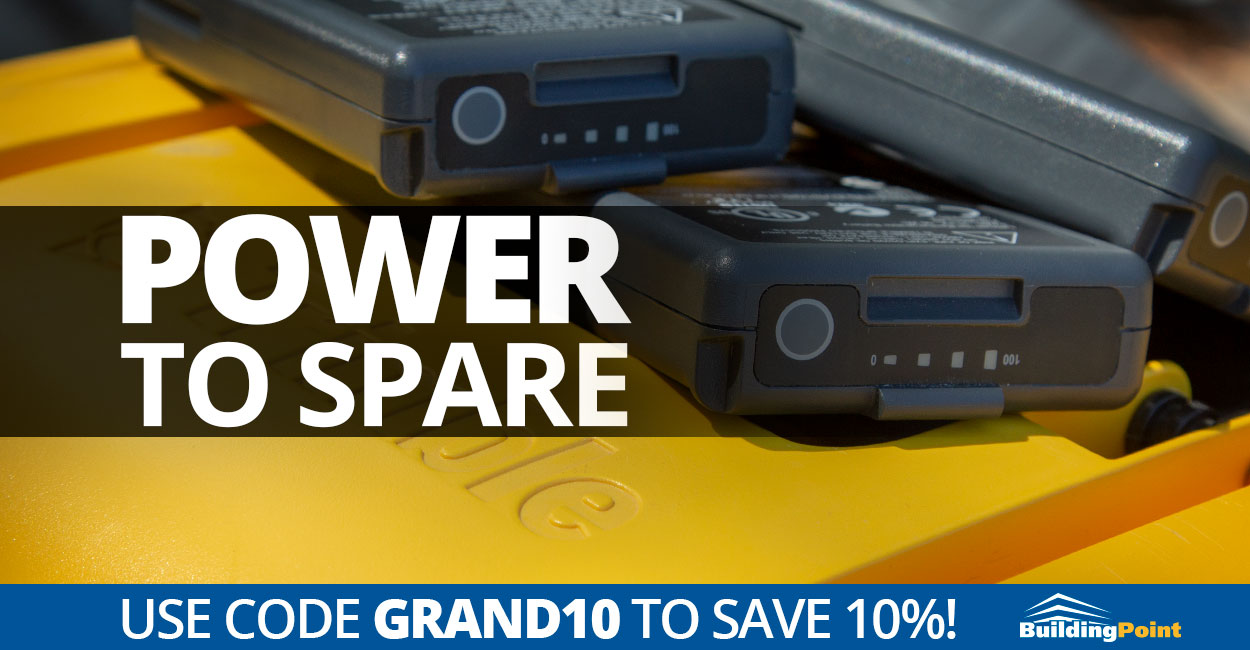 With the Florida construction market working overtime, it's hard not to work a little extra some days. And even with Trimble technology helping to increase efficiency, sometimes your work days just last a little longer than planned. On these days, it can be a life saver to have an extra set of batteries on-hand to finish marking those last couple of points, uploading the day's work to the office, or even just double checking some work from the previous day.
Trimble's total stations, tablets, and active targets all feature ruggedized external and interchangeable batteries for just this reason. With Trimble, you never have to worry about waiting for a battery to charge, or to be stuck without power in your device. Just swap and continue working. Spare batteries make it easy to ensure that your gear is powered up for even the longest of days.
If you'd like to add some spare batteries to your instrument case, simply reach out to your BuildingPoint representative, or order from buildingpointstore.com and we'll ship them right over.
Getting Started With Trimble WinEst Has Never Been Easier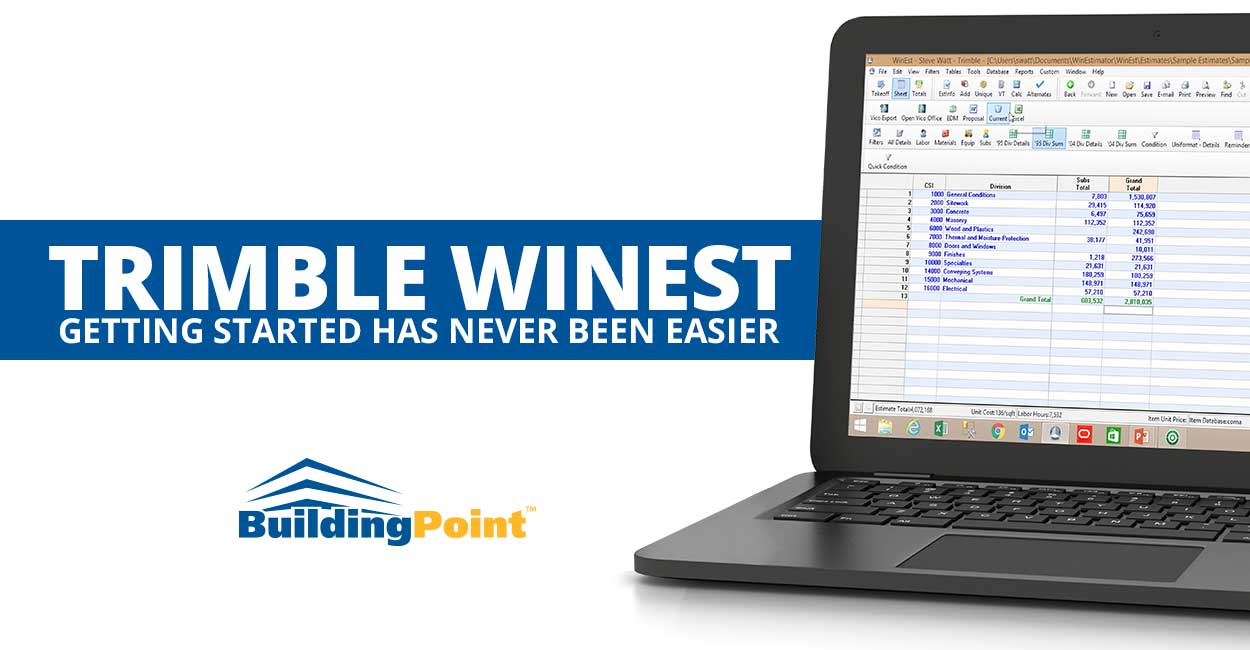 Trimble WinEst is changing the way that contractors estimate and bid their projects. By combining the power of a comprehensive database and the familiar simplicity of a spreadsheet, Trimble WinEst offers a unique solution that ensures accuracy, speed, and professionalism is delivered with every single bid package.
For a limited time, you can get started with this powerful construction solution at a significant savings of up to 35%. But you have to act fast. These discounts won't last for long.
To learn more, or to schedule a live demonstration, simply click the link below, or give us a call today at (813)280-0655.
Foundations Episode #33 – Living Beyond The Cloud
After a couple month hiatus, we're back in the saddle, and joined by our newest host, Steve Caron. In this latest episode of Foundations, we sit down to discuss the importance of the data you get from laser scanning, point clouds. From the accuracy of a scan, to the finished file size, we break down the importance of that data, and how you can use it in your workflow.
BuildingPointStore.com Is A Hit!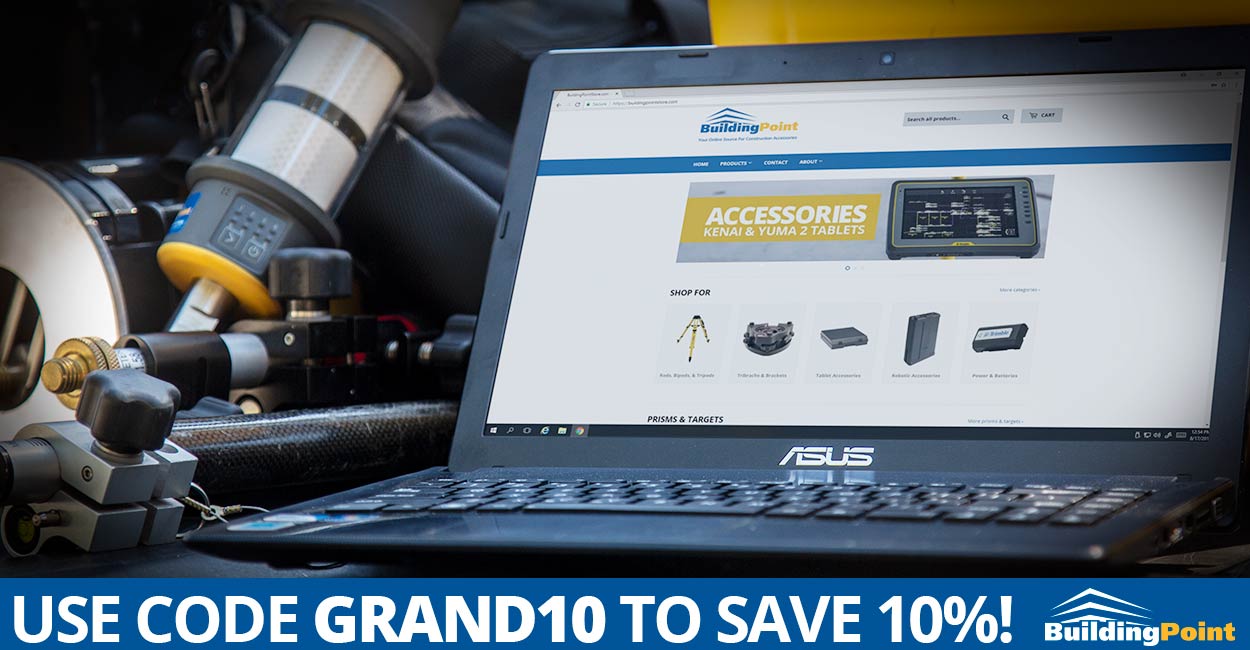 The grand opening of our accessories and parts store has been a huge success out of the gate! Tripods, rods, batteries, cables… they're all a simple click away. And with flat-rate shipping and next day Florida delivery, you can easily ensure that your crews have the Trimble tools they need to get the job done quickly and easily.
And if you act fast, you can continue to celebrate with us with the Grand Opening of this online store! Simply use the code grand10 at checkout and receive a flat 10% off on your order. It's really that easy! Head over today, and grab the gear that you need.
The Accessories You Need, Now Only A Click Away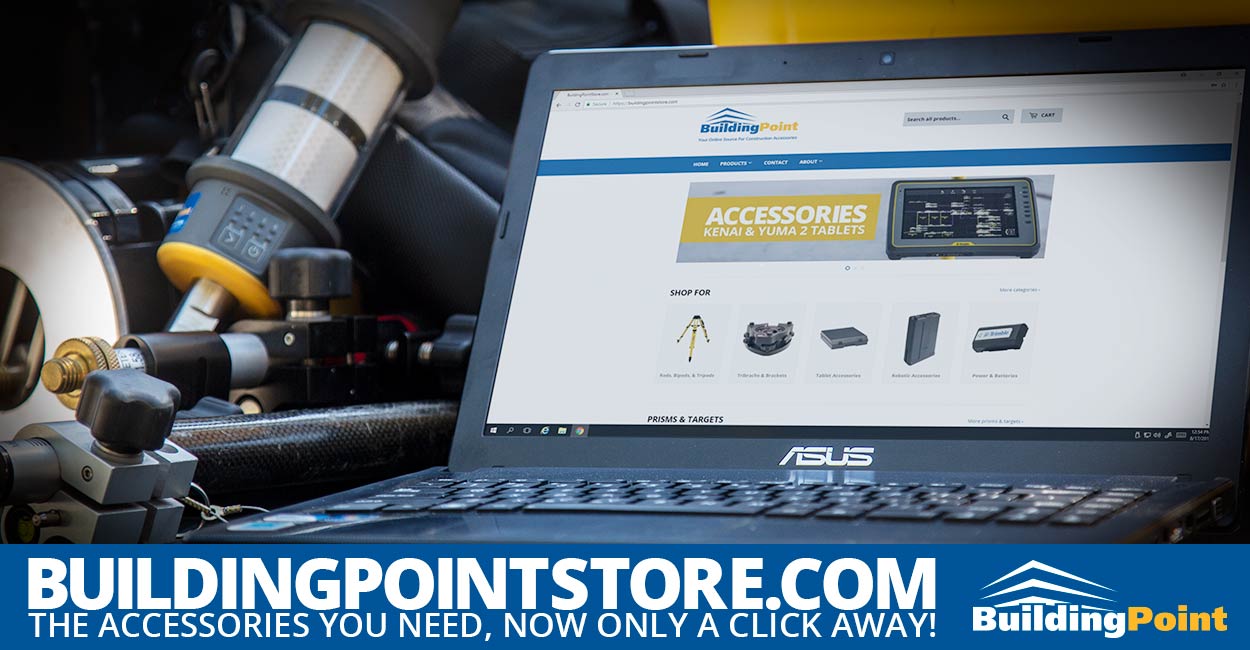 BuildingPoint is thrilled to announce the grand opening of our all-new online store for Trimble technology, parts, and accessories.
Offering flat-rate/same day shipping and next day delivery for Florida contractors, buildingpointstore.com is your one-stop shop for the items you depend on each and every day out in the field.
As a grand opening special, Florida customers can also take advantage of an amazing 10% discount on their first order by simply using promo code grand10 at the time of checkout.
So what are you waiting for? Head over to buildingpointstore.com today!
Introducing The All-New Site Control Module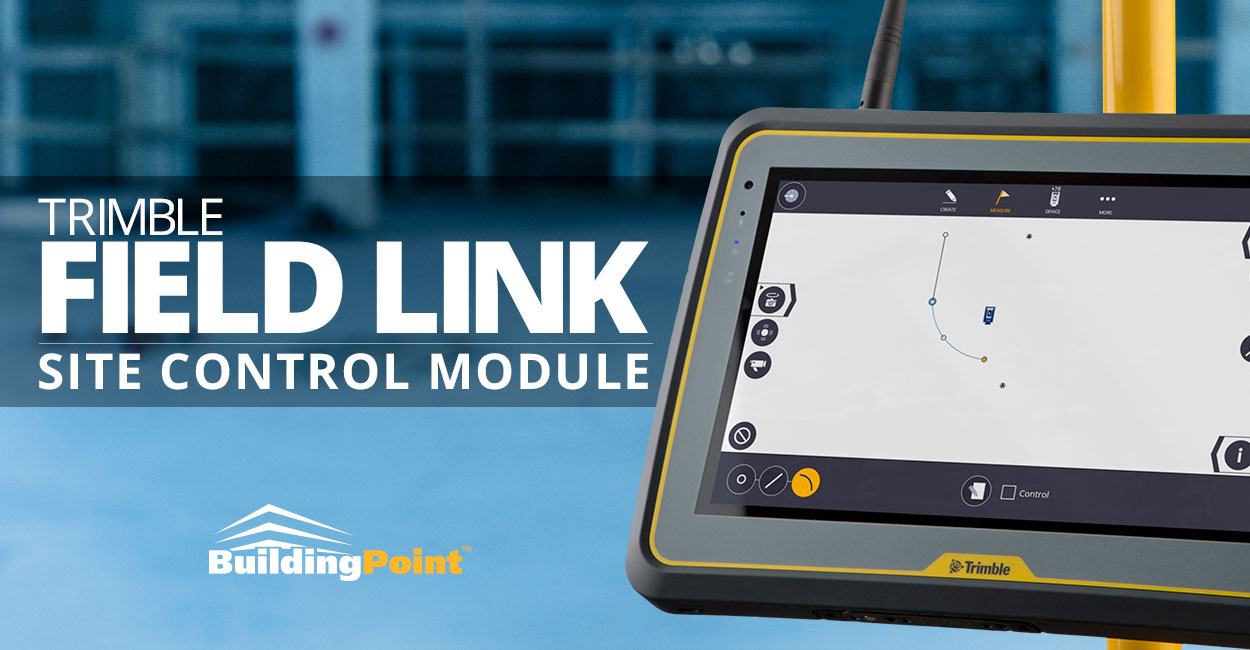 With the release of Trimble Field Link 4.6, Trimble now offers contractors a powerful new component for advanced users looking to prioritize accuracy and site setup. Named the Site Control module, this add-on enhances the already best-inc-class capabilities of TFL when setting up a project or job site from scratch.
Perfect for both general contractors and structural trades, the Site Control Module unlocks the ability to perform rounds when measuring points, significantly increasing accuracy when doing initial project setup or getting a particular site up and running. With rounds, the user can easily and automatically instruct Trimble Field Link to perform multiple dual-face measurements of control points and job site reference, ensuring a solid and repeatable setup.
To learn more about the Site Control Module, or to see this feature first-hand on your project, contact your BuildingPoint representative today, or click the link below.
Save On Trimble Dimensions Registration!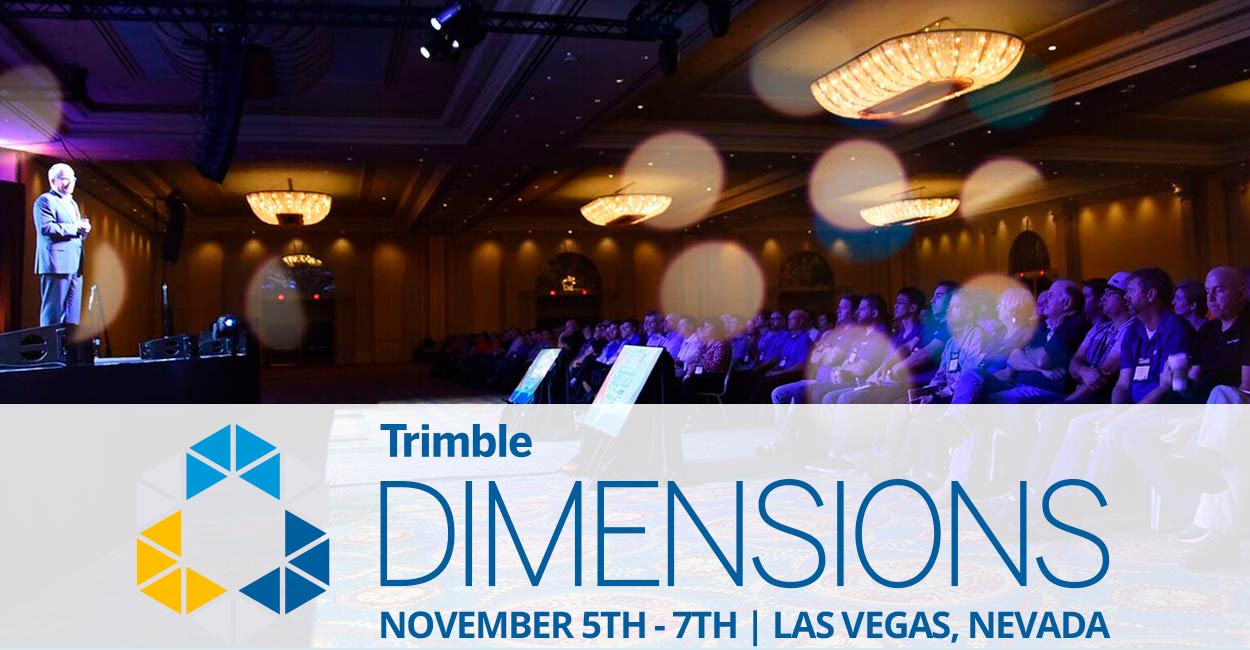 Trimble Dimensions 2018 is right around the corner! Taking over the Sands Convention Center in Las Vegas, November 5-8, the industry's premier construction technology conference will offer insightful keynote sessions, in-depth learning and continuing education track sessions, and unparalleled access to the though leaders propelling the construction industry forward.
Visit TrimbleDimensions.com to learn more about the event, and click the link below or contact your local BuildingPoint Representative to learn how you can save on your registration!
Trimble WinEst Pro-Tip: Show Net As Allocations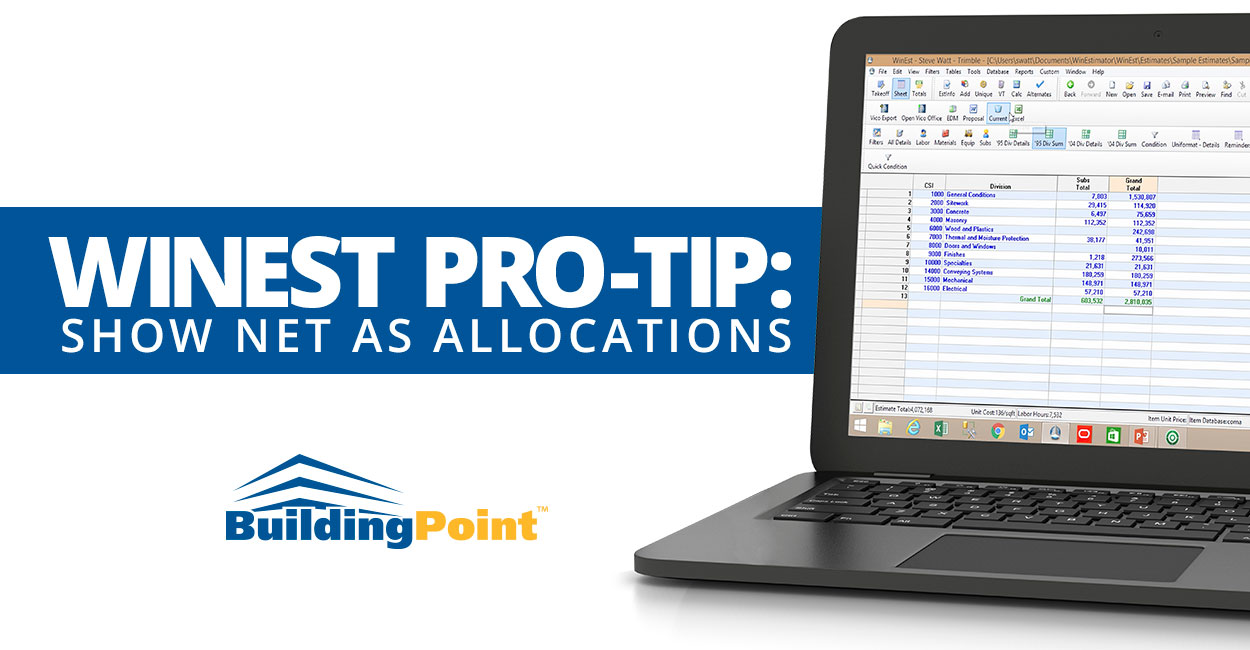 A unique, and often underused, feature within Trimble WinEst is the ability to evenly distribute profit dollars within your estimate. Using the "Show Net As Allocations" feature, you can easily instruct WinEst to allocate your profits to line items. This simple toggle makes it easy to change your reporting structure for internal and external clients, while keeping the integrity of the cost database intact.
To use this feature simply select "View>Show Net as Allocations" to enable, and toggle the item again to disable this view.
To learn more, or to see a live demo of Trimble WinEst, contact your BuildingPoint representative today, or simply give us a call at (813) 280-0655.