Trimble WinEst Pro-Tip: Show Net As Allocations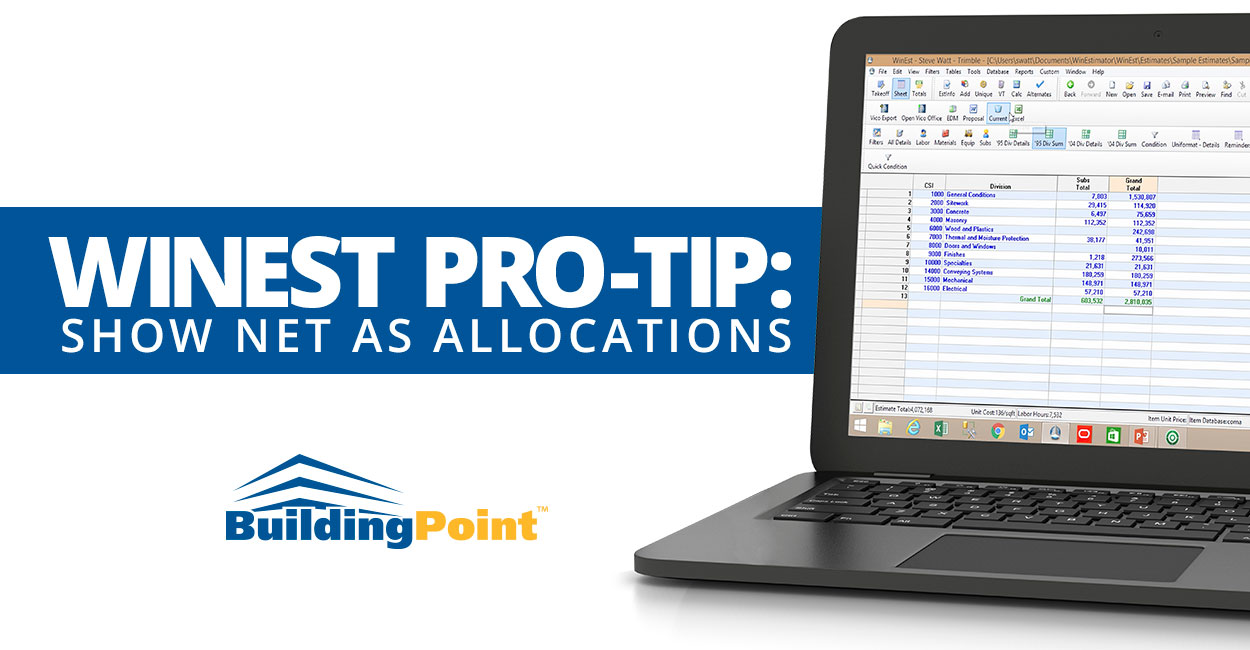 A unique, and often underused, feature within Trimble WinEst is the ability to evenly distribute profit dollars within your estimate. Using the "Show Net As Allocations" feature, you can easily instruct WinEst to allocate your profits to line items. This simple toggle makes it easy to change your reporting structure for internal and external clients, while keeping the integrity of the cost database intact.
To use this feature simply select "View>Show Net as Allocations" to enable, and toggle the item again to disable this view.
To learn more, or to see a live demo of Trimble WinEst, contact your BuildingPoint representative today, or simply give us a call at (813) 280-0655.
Trimble Success Stories: Omega Mechanical
Omega Mechanical is using Trimble hardware and software to increase efficiencies, finish projects ahead of schedule, and meet their business goals. To learn more about the some of the MEP solutions seen in this video, or schedule a demo, click the link below, or contact your local BuildingPoint representative.
The Power Tool For Layout
You depend on your tools. With the right tools, your job goes a little quicker, and a little smoother. When it comes to basic points layout and job site QA/QC, the Trimble RPT600 is that tool. Featuring a simple one-button setup and a rugged construction-ready design, the RPT600 is designed to help you complete your layout with greater accuracy and efficiency.
To learn more about the Trimble RPT600, or to schedule a demo at your office or project, simply click the link below, or call your BuildingPoint representative today.
Trimble Field Link 4.6 Is Now Available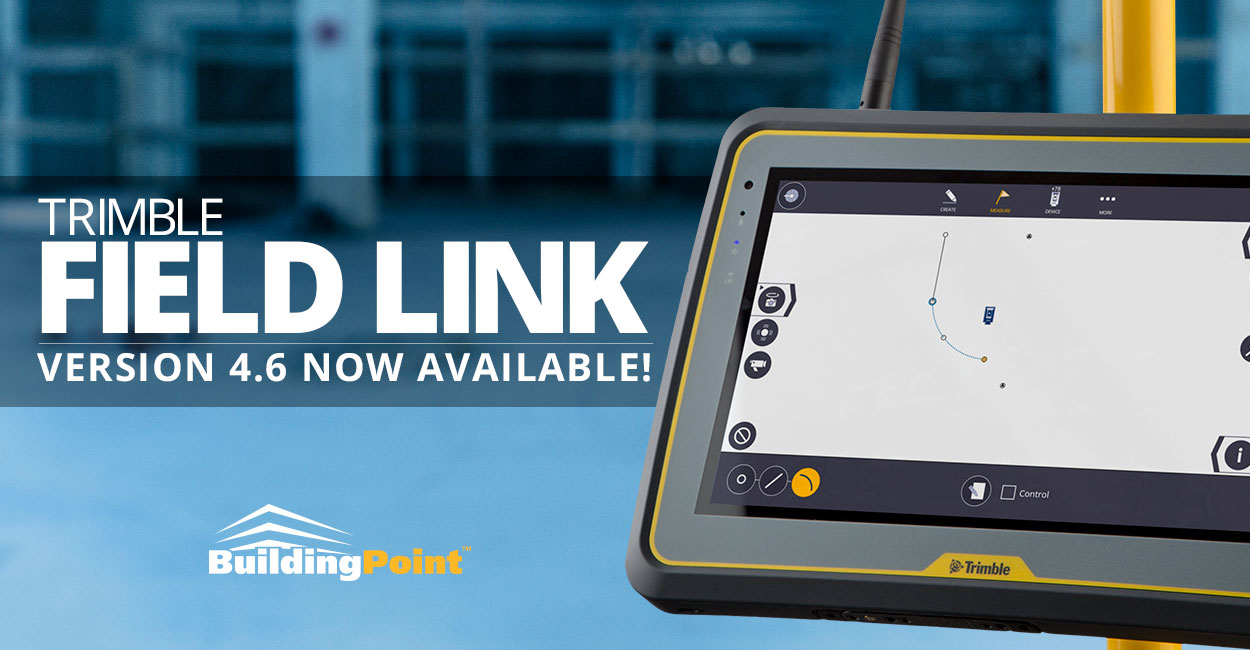 Now available for download through Trimble Installation Manager, Trimble Field Link 4.6 continues to add features and functionality to the industry's leading construction layout solution. While BuildingPoint will be covering some of these new features in detail in subsequent posts, here's the highlights of what has been added to the application in this latest version.
New Features:
• Measure Rounds (Site Control Module, Required)
• Vertical Surface Collection & Analysis (Surface Module, Required)
• Corner Bullseye Option in Layout
• Quick Vertical Verification Tool
Improvements:
• Line and Arcs information displayed via use of info button
• Display Preview of point information when laying out
• Create Points From Line – "Model Linework" and "TFL Linework"
• The state of every feature remembered as long as TFL is running (unless specifically excluded)
• RTS573 (and non-RTS total stations) – Enable LASER Mode while in Reference Elevation and Turn To features
• Option to turn compensator off with RTS (Resets Every Reconnection)
• Export of control points as DWG
• Ability to add attributes when creating a Point
• Preview points for multiple line segment in point manager
• Retain preview updates when collecting line and arc
• Displays number of staked points in job description
• Split Screen for data entry in TFL Office
Living In An Alternate Reality

In estimating, alternates are a fact of life. Whether you're accommodating owner requests, outlining or hedging uncertainty in the bid specs, or simply presenting a number of proposed options to decision makers, alternates represent a flexible and extensible way organize and present your bid presentation.
Trimble WinEst allows you unlock the power of alternates within your bid with a simple an intuitive interface. With WinEst, you can create a nearly unlimited number of alternates to help organize options. Once your alternates have been completed, you can easily toggle them off and on to tailor your final presentation and to commit changes to the bid once the final scope has been decided.
To learn more about managing alternates in Trimble WinEst, or to see a live demonstration, contact your BuildingPoint representative today, or simply give us a call at (813) 280-0655.
BuildingPoint Is Proud To Welcome Our Newest Team Member, Steve Caron!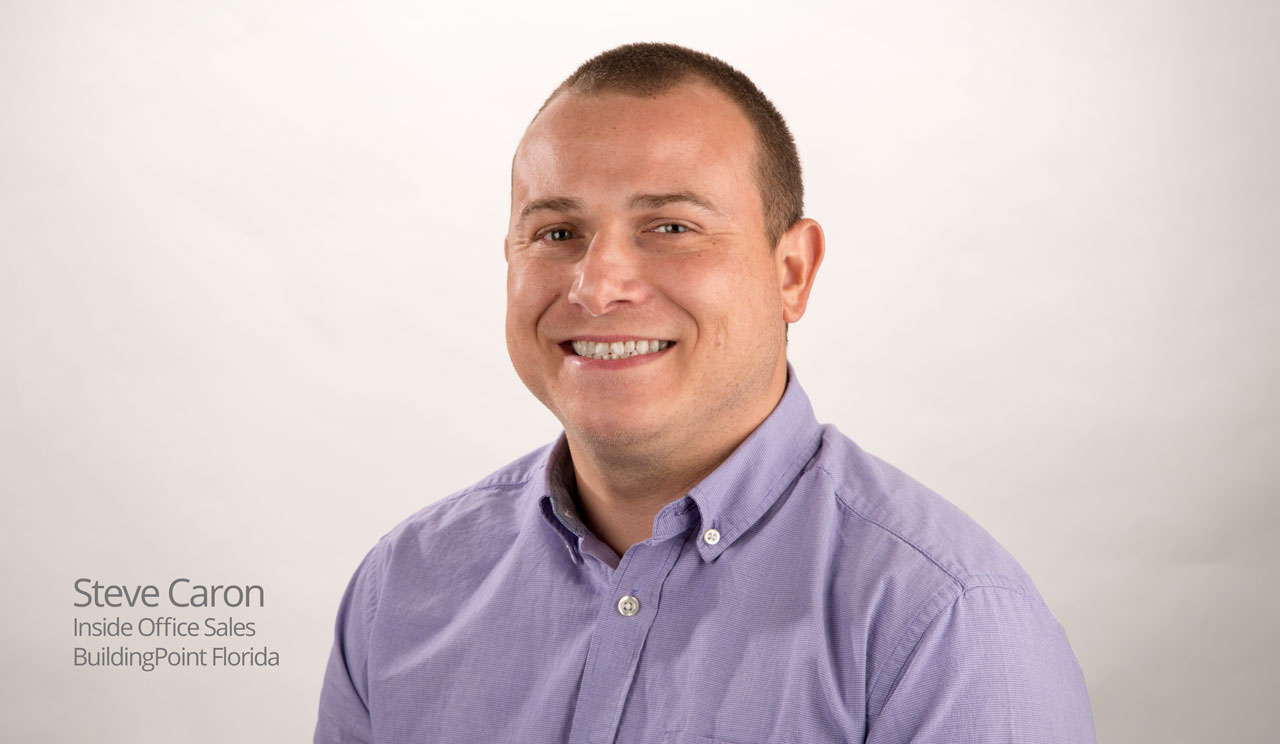 BuildingPoint is proud to welcome a new member to our team, Steve Caron! Steve joins us with over 15 years experience in Sales/Marketing. Steve began his career working for a Non-Profit organization before moving into the IT field. Steve's experience includes EMC storage and backup appliances, Dell Enterprise level products (servers, storage, networking), as well as Microsoft Azure cloud sales to customers spanning from the SMB space all the way up to Enterprise level solutions.
Steve will be based in Tampa, and cover the state of Florida for all of BuildingPoint's estimating software solutions.
Trimble Learning Made Easy – Learn.Trimble.com

Featuring a completely redesigned and intuitive learning environment, Learn.Trimble.com is the destination for enhancing your knowledge and mastery of Trimble products and solutions.
Whether you choose to attend a live e-learning course, consume flexible on-demand content, or just peruse the vast library of Trimble Buildings knowledge materials, Learn.Trimble.com is the comprehensive source for education around Trimble solutions.
Signing up is quick and easy, and getting started is completely free. Simply head over to Learn.Trimble.com today to learn about learning more!
Summer Savings Tablet Trade In Program

To kick off the summer, BuildingPoint is offering a limited time trade in deal for Yuma2 users on the Trimble Kenai! For qualifying users, you can trade in your Trimble Yuma2 and save thousands on the purchase of a new Trimble Kenai! Plus, you can transfer any Trimble Field Link Modules from your Yuma2 over to the new Kenai Tablet!
For more information on this limited time opportunity, click the link below to download our promotional flyer, contact your local BuildingPoint representative today, or simply give us a call at 813-280-0655 today!
Register For Trimble Dimensions 2018!

Registration for Trimble Dimensions 2018 is now open! This unique event features three action-packed days in Las Vegas this November. At the event, you'll be surrounded by more than 4,000 Trimble partners, professionals, employees and experts with ongoing opportunities to share knowledge, build connections and have fun. Highlights include more than 600 sessions with many qualifying for Professional Development Hours (PDH), insightful keynotes, special events, hands-on training and workshops and hours of networking opportunities.
Click the link below to register today and enjoy $200 off with early-bird pricing.
Direct Reflex – Does It Really Help?

With the release of the incredible long range of the Trimble RTS573, the question comes up, does Direct Reflex really help? And the short answer is yes. The longer answer is it depends on your workflow and application. Direct Reflex is the ability to measure to a surface rather than a traditional prism or active target. In many layout scenarios measuring to a point on a deck, or a planned penetration on a wall represents the prime example of DR measurement. For many contractors, increasing this range opens up a range of flexibility that results in fewer setups and a more intuitive workflow. To be sure, prism-based layout remains the most precise option for single-person robotic layout, but Direct Reflex let's you measure nearly any surface, instantly.
To learn more about Direct Reflex, or the all-new long-range RTS573, click the link below, or contact your BuildingPoint representative today.