2D Or 3D – The Choice Is Yours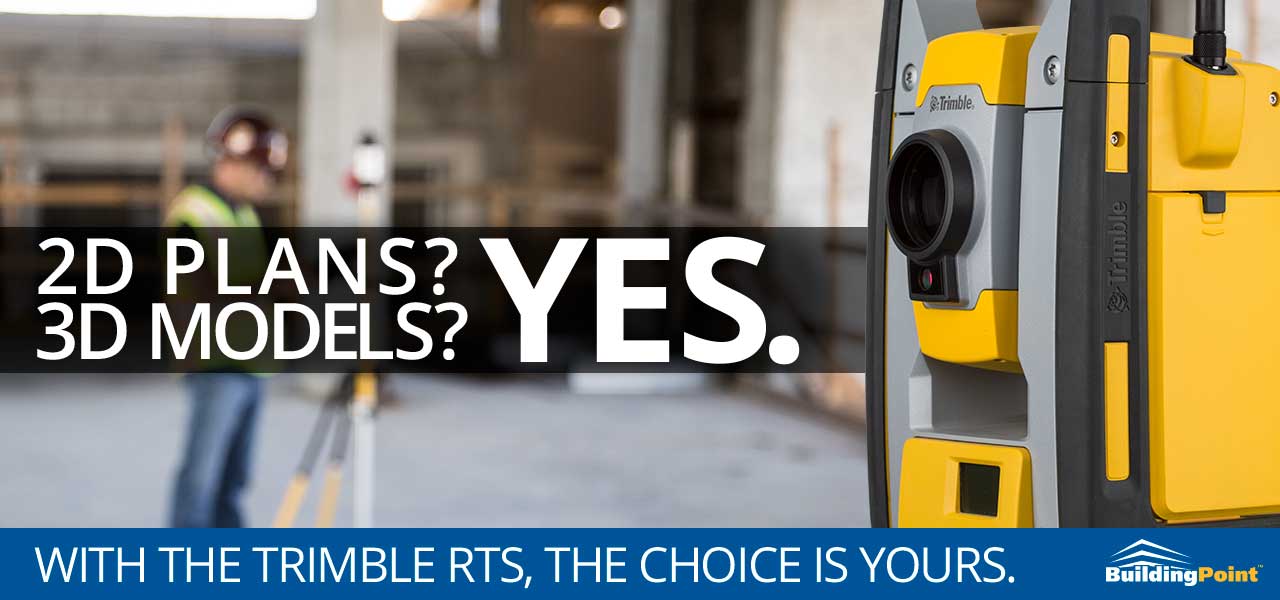 Let's be honest. Construction is rarely straightforward, especially when it comes to project design and layout data. Sometimes you have a model. Often times, you don't. That's why you should choose a layout solution that is perfectly suited for both. Enter the Trimble RTS Series.
With the Trimble RTS, you never have to limit yourself to either 2D linework, or 3D models simply because the Trimble workflow ensures that either method is a simple and as efficient as possible. Why choose, when you can have the best of both?
Construction Happens In Plan View
There's a reason buildings have been built from the top-down vantage point of the plan view. It's accessible, familiar, and it just works. The Trimble 2D workflow has been refined and developed over the past 15 years to create the most seamless and intuitive experience in the industry. Whether generating points in the office using Trimble Field Points (link) or in the field with Trimble Field Link, the 2D realm is easily inhabited by your RTS unit. And because it's been built with usability and functionality in mind, you're creating points and taking shots and measurements in hours, not days.
Laying Out From A Model Couldn't Be Easier
Increasingly, fully coordinated models are being provided to the project stakeholders. These models contain a wealth of depth and information. But all of this information is useless and wasted without accessibility. Trimble Field Link helps to effectively filter, categorize, and display the model information that is most important to you, for your specific task. Leveraging the power of fully capable field computers, you can easily load and navigate the actual building model in the field, giving an unprecedented level of visibility and perspective that allows project teams to quickly identify and alleviate issues and errors before they become change orders.
With Trimble Field Solutions, you can easily leverage 2D plans, 3D models, or both on your next project. To see this powerful capability on your project, simply contact your BuildingPoint representative today, or simply click the link below to request an on-site demonstration.