Trimble Tablets are tough and portable field computing solutions. With a Trimble Tablet, you can connect your office to the field, with the perfect tool for construction measurements, jobsite layout, and and site positioning. Both the Trimble Kenai, with it's larger display, and the Trimble FZ-M1, with it's smaller portable design, are designed for the needs of construction professionals. With a variety of connectivity options, a full blown Windows 10 operating system, and Trimble Field Link, Trimble Tablets are the perfect solution for your field computing needs.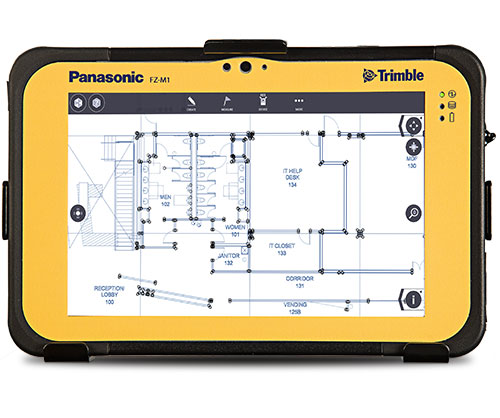 KEY FEATURES OF TRIMBLE TABLETS

Trimble Field Link is a single field layout solution that unifies Trimble's complete portfolio of precision layout solutions. With TFL, you can layout using satellite or optical-based technology through the same intuitive interface. With this capability, you can select the positioning workflow that best fits your project and your layout requirements.

Wireless Connectivity

With a multitude of connectivity options (GPS, Cell, Wifi, Bluetooth, 2.4ghz Radio) you have the flexibility you need to keep working in the field.

Rugged Design

Trimble Tablets are designed for construction workers who need a computer they can count on no matter where the job takes them, or how long they have to stay in the field to get the job done.
THE TRIMBLE TABLET FAMILY


TRIMBLE FZ-M1

The Trimble FZ-M1 is a compact, fully rugged tablet, built to enable contractors productivity without compromise. Powered by Windows 10 Pro, the FZ-M1 features a long life, user-replaceable battery and a daylight-readable, high-sensitivity multi-touch display for use with heavy gloves. The FZ-M1 includes multiple wireless connection options, including Wi-Fi, Bluetooth, and optional GPS or 4G LTE support. The Trimble FZ-M1 weighs in at just 1.2 lbs, is everything contractors require from a rugged tablet computer in the field.
TRIMBLE KENAI

The Trimble Kenai is a reliable, rugged, mobile computer designed for ease of use and high performance in the field. Featuring a 10.1″ screen, rear facing camera, and Windows 10 operating system, the Kenai will get the job done, no matter the job. Fully cloud-capable, the Kenai provides connectivity options including Bluetooth, Wi-Fi and 4G LTE capability. Designed to last for all-day performance, the Kenai boasts hot-swappable batteries so the tablet can keep up with the demanding pace of today's jobsites.

FIRSTLOOK: TRIMBLE TABLETS