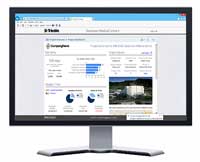 Trimble Prolog 9.93 was recently released for Prolog Manager, Prolog Converge and Prolog Mobile. This latest update is compatible with Windows 10 and iOS 9.  In addition to bug fixes, some of the new features are:
· Prolog File Management System is now based on HTML-5 instead of Microsoft's Silverlight platform
· Closed PCOs (Potential Change Order) are no longer available for selection when linking PCOs to CORs (Change Order Request).
· Prolog allows you to link and view files on individual line items on the Manpower/Labor tab in the Daily Work Journal.
· When selecting a budget code for Contracts, POs, and PCO's, Committed Cost, Uncommitted Cost and Projected Costs columns have been added to the search window.
· RFIs can be saved without numbering when Auto-Numbering is turned off for RFIs.
· Reports have been added for Checklists, Material Packages and Material Tracking.
For a full list of changes, download the release notes here.