Prolog is the leading construction project management solution for contractors and other AEC firms. It provides a complete system of records for managing project information from the field to the back office. Designed by construction professionals for construction professionals, this all-in-one, configurable construction project management software provides the capabilities to improve collaboration among teams and stakeholders and to help your organization operate more efficiently.
Trimble Prolog is built for project managers accountable for construction costs, scope and schedules, and for project teams responsible for the successful delivery of projects. With powerful project management software to monitor and control your projects, you will be able to access and share the mission-critical information needed to complete quality projects on time and within budget.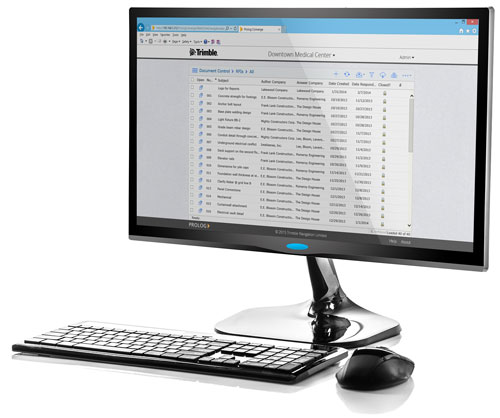 WHAT MAKES PROLOG DIFFERENT?

Prolog is the most comprehensive construction project management software solution, setting the industry standard for functionality, customization and integration. Our team of specialists offer support installation and configuration, providing a powerful field management tool that streamlines processes, improves communication and provides insights into controlling costs and purchasing.
WHAT OUR CUSTOMERS ARE SAYING
KEY FEATURES OF PROLOG

Project Management Features:
It's easier than ever for busy contractors to organize teams and streamline efficiency. Prolog software functions include monitoring schedules, budgets, checklists, punch lists, daily field and safety reporting, inspections, automated notifications and more.
Enhanced office-to-field collaboration:
With the ability to share drawings and specifications, notes, conversation logs, submissions and other documents in real-time. Workers are always in touch with the information they require via mobile apps or offline device.
Improved workflow and documentation management:
This makes it possible to keep tabs on multiple projects on a customizable dashboard featuring high-level status overviews and visual elements. Access contracts, dunning letters, meeting minutes, bid awards, vendor communications and other documents within a single, secure database.