Spatial Scanning For Renovations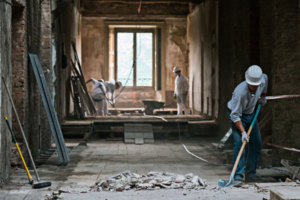 When it comes to understanding your space, either before, during, or after construction, BuildingPoint Spatial Scanning Services provides a perfect snapshot of your project. By completely documenting through point clouds, imagery, and 2D drawings or 3D models, a Spatial Scanning devlierable is the perfect tool for understanding and describing your space. One of the most comprehensive and cost-effective scenarios for this type of documentation is within the scope of as-builts for renovations. With this workflow, contractors and designers can easily achieve a number of benefits when compared to traditional as-built documentation, while also increasing the collaboration and visibility on the project, even before production begins. When considering options and alternatives for your next renovation as-built, BuildingPoint Spatial Scanning Services provides the following benefits, and gives you a significantly more complete understanding of your space.
A Complete Holistic Snapshot
Point cloud data? Check. 360 panoramic images? Check. Floorplans and 3D models? Check and check. Spatial Scanning offers the complete view of your renovation project, perfectly documenting the existing conditions that are present in your scope. Highly precise 3D point clouds form the backbone of what is a powerful and insightful site-wide capture of your space as it sits today. This is the perfect foundation for beginning your construction process.
Quick, Actionable Data Acquisiton & Turnaround
Generally speaking, the higher the resolution and detail of the as-built, the slower the acquisition and turnaround time. With Spatial Scanning, data acquisition and detail is largely irrelevant, as least as it pertains to the on-site capture and point cloud delivery schedule. In most cases, point clouds are captured in a single day in all but the largest of projects, and point clouds are ready for consumption one day later. This streamlined turnaround gets the data in your hands, where it belongs, so you can begin making more informed and accurate decisions.
Keep Stakeholders On The Same Page
Project collaboration and visibility is a huge buzzword in the AEC industry today. With technology changing the way that stakeholders collaborate, having a single unified as-built dataset can greatly reduce the headaches and frustration that is associated with remote,  web-based team correspondence. As a unified source of as-built data, your team now has the ability to trust a single authoritave dataset that represents the actual conditions on site.
Easy Visibility Into Progression
And speaking of actual conditions… One of the added benefits of having an extremely efficient data acquisition process is being able to replicate and meaure progress throughout the project schedule. As your project progresses, or as conditions change, Spatial Scanning can be used to re-examine and/or document changes to your project, providing further visibility to remote teams and stakeholders.
Spatial Scanning represents a truly powerful tool that can be used throughout the design and construction process. This turnkey, yet customizable deliverable provides a true advantage to design and construction teams looking to elevate their visibility, documentation, and efficiency on renovation projects of all sizes and scopes. To learn more, contact your local BuildingPoint representative today, or head over to our Spatial Scanning web page by clicking here.