Trimble Releases Vico Office R6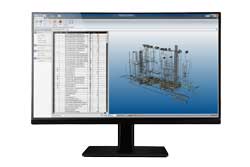 Building upon the immense power and success of Trimble Vico Office, the entirely new R6 represents a significant step forward for users looking to create leverage VDC practices in their construction and design processes. Whether it's model and document management, model takeoffs, or location breakdowns, Vico Office R6 can propel your model-based workflow to an entirely new level.
Vico Office R6 boasts a number of exciting enhancements including:
• Element import selection
• Access to all BIM parameters, including "user-defined" fields
• Support for CAD quantities
• Templated imports and content grouping
• Selective quantification
Additionally R6 features and entirely new Takeoff Items Builder designed to simplify and automate many repetitive takeoff tasks to help turn estimates more quickly and more accurately.
To learn more about Trimble Vico Office R6, head over to Trimble's product page, view the recently released Vico webinar, or simply reach out to your BuildingPoint representative directly.